TORONTO, June 22, 2023 (GLOBE NEWSWIRE) – Copper Road Resources Inc. (TSXV: CRD) ("Copper Road" or the "Company") is pleased to announce the proposed 2023 drill program at the highly-prospective JR Zone at its Copper Road Project in Batchewana Bay, Ontario.
The Company plans to test the following priority targets at the JR Zone:
J-P-23-01: the hole will test the Jogran porphyry at depth proximal to historical DDHs from 1964: JDH-13 (5 to 152 m: 147 m @ 0.27% Cu, 0.068% MoS2, 0.55% Cu Eq) and JDH-16 (5 to 170 m: 165m @ 0.23% Cu, 0.054% MoS2, 0.44% Cu Eq), neither of which were assayed for potential by-product metals (e.g. Au, Ag, Re, W). The hole will be designed to test the porphyry mineralization to a vertical depth of 400 m which is approximately twice the extent of known mineralization.
J-P-23-02: the hole will test an area of mid-grade Cu mineralization in historical DDH JDH-07 which intercepted 14.6 m of 0.50% Cu from 126.8 to 141.4 m, 11.5 m of 0.34% Cu from 184 to 195 m and bottomed in quartz stringers with clusters of chalcopyrite and bornite at 197 m. According to historical drill logs, chalcopyrite was evident in 74% of the core yet only 232 feet (35%) of the core was sampled in 1964.
R-P-23-01: the hole will test the extension of the historic high-grade intercepts in the Richards Breccia by stepping out approximately 50 m to the west of AR97-07 (27 m @ 1.46% Cu, 0.17 g/t Au, 3.8 g/t Ag) at a vertical depth of approximately 50 m. The company interprets the high-grade mineralization to follow the perimeter of the breccia pipe similar to the Breton Breccia, Tribag Mine Zone. This is supported by the semi-circular geometry of the Gradient IP anomaly associated with the Richards Breccia (see Figure 3).
Note: Assumptions used in USD for the copper equivalent calculation were metal prices of $3.87/lb Copper, $56.57/kg Molybdenum, and recovery is assumed to be 100% as no metallurgical test data is available. The following equation was used to calculate copper equivalence: CuEq = Copper (%) + (Molybdenum (%) x 6.624122) (Mo% = MoS2 x 0.6).
Additional holes have been designed to follow-up JR Zone targets laterally and at depth based on the visual results of the proposed holes listed above, as well as to test two new targets, the J2 "Roof Zone" MMI anomaly at Jogran and the Richards northwest target, a potentially larger (150 x 250 m) and more intense chargeability and resistivity anomaly similar to the Richards Breccia anomaly.
Copper Road Resources President and CEO John Timmons comments:
"The JR Zone contains lengthy intersections of near-surface breccia and porphyry-hosted mineralization that are untested at depth and untested for by-product minerals. Confirmatory MMI lines and historical geophysics demonstrate the potential for a larger zone of mineralization at the Jogran Porphyry and additional larger breccia targets to the northwest and to the south of the Richards Breccia. We are confident that our proposed summer exploration program will demonstrate the potential of the JR Zone to host a large-tonnage near-surface copper deposit containing a suite of by-product minerals."
JR Zone: Historical Exploration and Recent Work
Historical exploration at the Richards Breccia and Jogran Porphyry was conducted by Jogran Mines (1964), Phelps Dodge (1966), Duration Mines (1988), Noranda (1992) and Aurogin Resources (1997-98). The drilling encountered broad near-surface intersections of copper mineralization that are untested below 150-175 m and have not been additionally drill tested since 1964 (Jogran) or 1998 (Richards). It is also important to note that many of the historical holes were not completely assayed, nor were most holes assayed for possible by-product credits such as Au, Ag, W or Re.
Jogran Porphyry 1964 DDHs:
JDH-13 from 5 to 152 m: 147 m @ 0.27% Cu, 0.068% MoS2  (0.55% Cu Eq)
JDH-16 from 5 to 170 m: 165 m @ 0.23% Cu, 0.054% MoS2  (0.44% Cu Eq)       
Richards Breccia 1997-98 DDHs:
AR98-07 from 36 to 63 m: 27 m @ 1.46% Cu, 0.17 g/t Au, 3.8 g/t Ag
AR97-25 from 42.5 to 83 m: 40 m @ 0.86% Cu, 0.06 g/t Au, 3.5 g/t Ag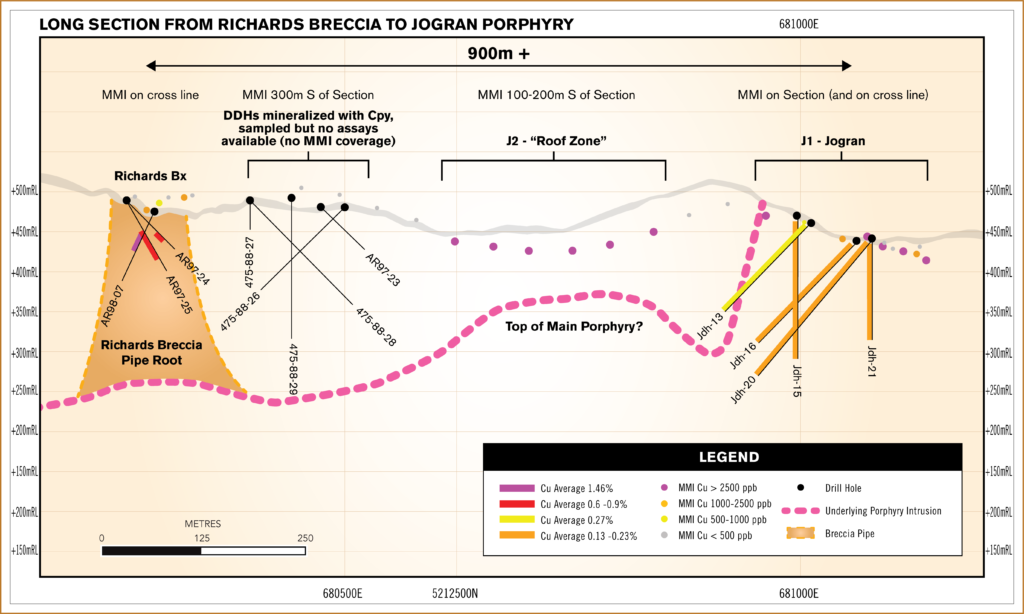 Figure 1: JR Zone Long Section
In the summer of 2022, three reconnaissance MMI soils lines were completed by the Company, including one long line (2.2 km) along the presumed strike trend of the mineralization, and two "wing" lines, one each directly over the Jogran Porphyry (1.2 km) and the Richards Breccia (1.1 km) (see Figure 2: MMI map of Jogran area). 
Figure 2: JR Zone MMI Lines and Proposed DDHs
All lines returned strongly anomalous Cu, Mo, W, Ag and localized Au over the known occurrences (confirming limited historical drilling and trenching) extending the Cu and Mo anomalies for hundreds of metres in most directions (anomaly J1) and discovering new Cu anomalies (J2, R2-R4.). This indicates the potential for a much larger footprint of the known mineralization, which at this point, with only 3 reconnaissance lines, is as much as 1.5 km along strike and up to 550 m wide (open). Anomalous W and Ag form a broad halo over the whole system, with local Au strongest at Jogran (J1) and new Target R4.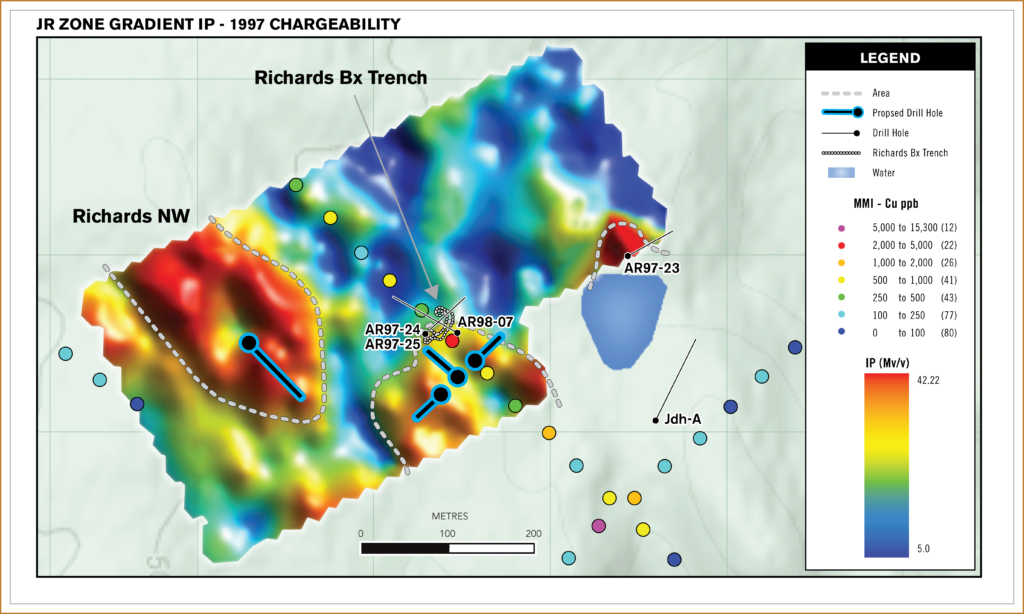 Figure 3: JR Zone Gradient IP
Non-Brokered Private Placement
The Company would also like to announce a non-brokered private placement (the "Offering") for gross proceeds of up to $400,000 from the sale of any combination of units of the Company (each, a "Unit") and flow-through units of the Company (each, a "FT Unit"), each at a price of $0.07 per Unit and FT Unit.
Each Unit will consist of one common share of the Company (each, a "Unit Share") and one half of one common share purchase warrant (each whole warrant, a "Warrant"). Each FT Unit will consist of one common share of the Company to be issued as a "flow-through share" within the meaning of the Income Tax Act (Canada) (each, a "FT Share") and one half of one Warrant. Each Warrant will entitle the holder thereof to purchase one common share of the Company (each, a "Warrant Share") at a price of $0.15 for a period of 36 months following the closing date of the Offering.
The Company intends to use the proceeds of the Offering for the exploration of the Company's Copper Road Project and for general working capital purposes. The gross proceeds from the issuance of the FT Shares will be used for "Canadian Exploration Expenses" (within the meaning of the Income Tax Act (Canada)) (the "Qualifying Expenditures"), which will be renounced with an effective date no later than December 31, 2023 to the purchasers of the FT Units in an aggregate amount not less than the gross proceeds raised from the issue of the FT Shares. If the Qualifying Expenditures are reduced by the Canada Revenue Agency, the Company will indemnify each subscriber of FT Units for any additional taxes payable by such subscriber as a result of the Company's failure to renounce the Qualifying Expenditures.
The closing of the Offering is expected to occur on or about July 5, 2023 and is subject to receipt of all necessary regulatory approvals including the TSX Venture Exchange ("TSXV"). Finder's fees on the sale of the Units and FT Units may be payable in accordance with the policies of the TSXV.
Qualified Person
Mr. Augusto Flores IV, P.Geo., a qualified person for the purposes of National Instrument 43-101, has reviewed and approved the technical disclosure contained in this news release.
About Copper Road Resources
Copper Road Resources Inc. is a Canadian-based explorer engaged in the acquisition, exploration and evaluation of properties for the mining of precious and base metals. The Company is exploring for large copper/gold deposits on the 21,000-hectare Batchewana Bay Project, 80 km north of Sault St. Marie, Ontario, Canada.
For further information, please contact:
John Timmons
President, CEO and Director
Cellular: (416) 931-2243
Email: [email protected]
Web: www.copperroad.ca
Caution Regarding Forward-Looking Information
This news release contains forward-looking information that involves substantial known and unknown risks and uncertainties, most of which are beyond the control of Copper Road. Forward-looking statements include estimates and statements that describe Copper Road Resource's future plans, objectives or goals, including words to the effect that Copper Road Resources or its management expects a stated condition or result to occur. Forward-looking statements may be identified by such terms as "believes", "anticipates", "expects", "estimates", "may", "could", "would", "will", or "plan". Since forward-looking statements are based on assumptions and address future events and conditions, by their very nature they involve inherent risks and uncertainties. Although these statements are based on information currently available to Copper Road Resources, the Company provides no assurance that actual results will meet management's expectations. Risks, uncertainties and other factors involved with forward-looking information could cause actual events, results, performance, prospects and opportunities to differ materially from those expressed or implied by such forward-looking information. Forward looking information in this news release includes, but is not limited to, the Company's objectives, goals or future plans, statements, details of the exploration results, potential mineralization, Copper Road Resource's treasury, management team and enhanced capital markets profile, the estimation of mineral resources, exploration and mine development plans, timing of the commencement of operations and estimates of market conditions.
Factors that could cause actual results to differ materially from such forward-looking information include, but are not limited to, failure or inability to complete the Offering on disclosed terms or at all, regulatory approval processes, failure to identify mineral resources, delays in obtaining or failures to obtain required governmental, regulatory, environmental or other project approvals, political risks, inability to fulfill the duty to accommodate First Nations and other indigenous peoples, uncertainties relating to the availability and costs of financing needed in the future, changes in equity markets, inflation, changes in exchange rates, fluctuations in commodity prices, delays in the development of projects, capital and operating costs varying significantly from estimates and the other risks involved in the mineral exploration and development industry, and those risks set out in the Company's public documents filed on SEDAR. Although the Company believes that the assumptions and factors used in preparing the forward-looking information in this news release are reasonable, undue reliance should not be placed on such information, which only applies as of the date of this news release, and no assurance can be given that such events will occur in the disclosed time frames or at all. Copper Road Resources disclaims any intention or obligation to update or revise any forward-looking information, whether as a result of new information, future events or otherwise, other than as required by law.
Neither the TSXV nor its Regulation Services Provider (as that term is defined in the policies of the TSXV) accepts responsibility for the adequacy or accuracy of this news release.