The Copper Road project sits on the northeastern flank of the Mid-Continental Rift within the Proterozoic Keweenawan Group. The Mid-Continental Rift is the same structure that formed Lake Superior and the world-class Keweenawan peninsula copper-mining region in the US, which housed the initial copper rush in the mid-1800s and was mined for more than 150 years.
The Batchewana Bay area has a long history of prospecting, exploration and mining activity dating to the mid-1800's with copper production from 1965-1972 at the former Coppercorp and Tribag Mines. Both mines were closed to low copper prices in the early 1970s and closed to staking by the Ministry (Coppercorp 1972-2002/Tribag 1974-2008).
The area has seen limited exploration since 1998 due to fragmented land ownership and staking closures. The Company has consolidated the majority of known regional targets into a 21,000 ha contiguous project which contains multiple zones of near surface Cu/Au/Mo/Ag showings validated by historical production and historical drilling/trenching/sampling.
The Company is focused on two zones of known near-surface mineralization which are approximately 12 km apart.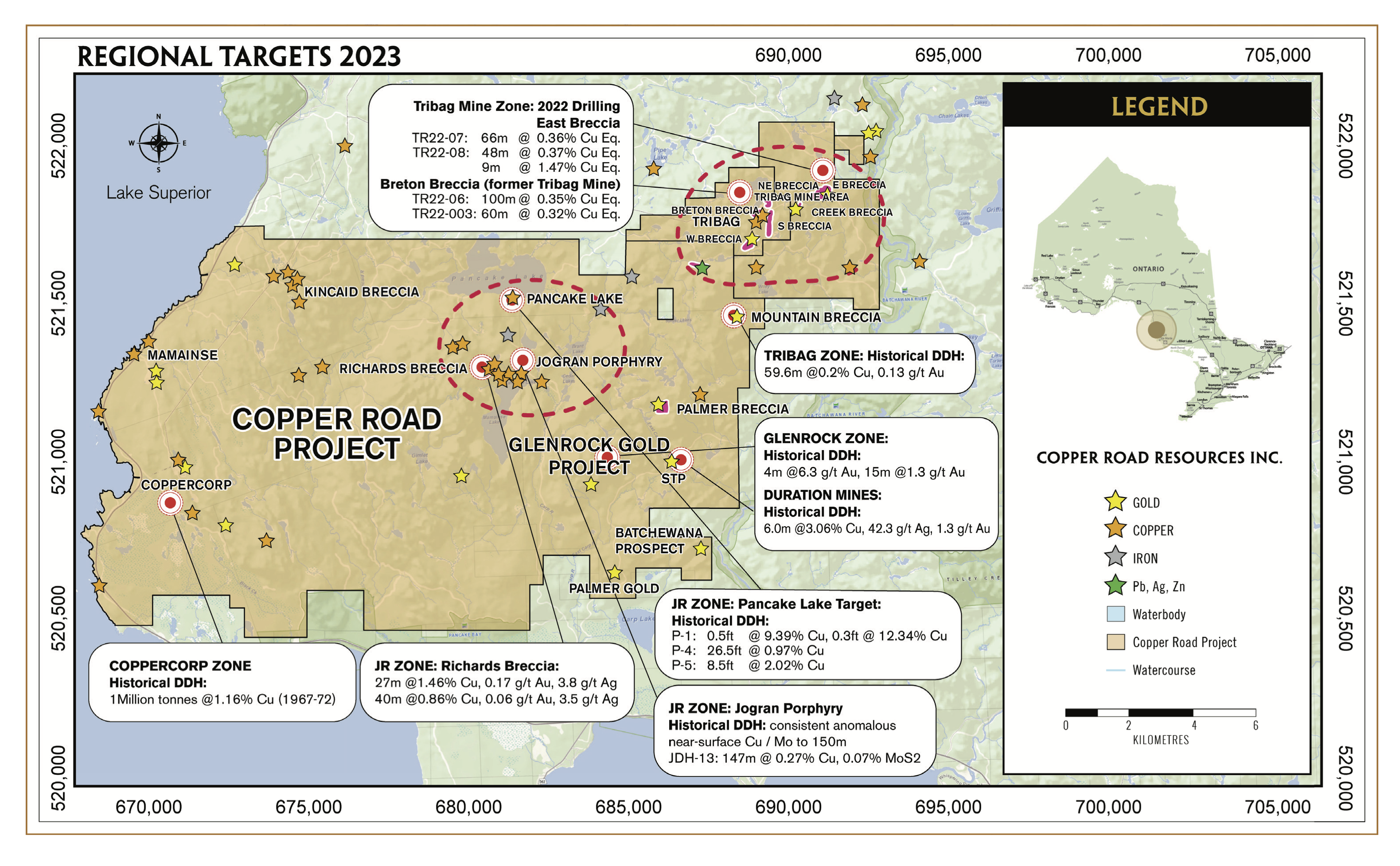 1. JR Zone
Historical exploration at the Richards Breccia and Jogran Porphyry by Jogran Mines(1964), Phelps-Dodge(1966), Duration Mines(1988), Noranda(1992) and Aurogin Resources(1997) encountered broad near-surface intersections of copper mineralization that is untested below 200m.
JDH-13 from 5 to 152m:147m @ 0.27% Cu, 0.07% MoS2
JDH-16 from 5 to 170m:165m @ 0.23% Cu, 0.05% MoS2
2. Tribag Zone
The former Tribag Mine consists of multiple mineralized breccias some of which were mined by Tribag Mining Company/Teck Resources.
2022 diamond drilling demonstrated additional broad intersection of Cu/Ag/Mo/Re mineralization outside of historical models.
TR22-6 from 11 to 118 m: 100m @ 0.34% Cu Eq
TR22-08 from 330 to 339m 9m @ 1.47% Cu Eq
Historical estimate by Teck Resources Breton Breccia: 40 million tons at 0.4% Cu
Historical estimate by Teck Resources East Breccia 125 million tons at 0.13% Cu and 0.05% Mo
2022 drilling at the Tribag Zone established near-surface copper mineralization with accompanying silver, molybdenum and rhenium content. 9 m high-grade zone at depth indicates the potential for high-grade mineralization related to a feeder structure.